We're pleased to announce yet another installment of the annual Okthrowberfest Disc Golf Tournament in support of the Dušan Nedelko Foundation.
For those of you who participated last year, we're looking to have you join us for the 3rd edition of this family and beginner friendly tournament at Chicopee Ski and Summer Resort! If you missed it last year – please join us all day Saturday, October 15th.
Register today by calling Chicopee Ski and Summer Resort at 519-894-5610 or keep reading below to learn more!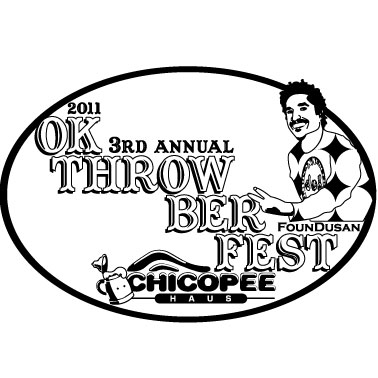 The 3rd Annual 2011 OkthrowberFest Disc Golf Tournament in support of the Dusan Nedelko Foundation
What is it Okthrowberfest?
Okthrowberfest is an amateur and family friendly disc golf tournament and family day event being held at the Chicopee Ski and Summer Resort. We have a full day of fun filled activities available to your entire family and to participants of all ages.
What is Disc Golf?
Disc golf is a low impact, inclusive game of skill. Imagine playing "ball" golf and instead of hitting a ball with a club, you're throwing a disc (or frisbee) at a basket instead of a hole. Age, athletic ability, size and stamina are all equalized in this incredibly fun and inclusive game of skill.
This game has an excellent social component and we definitely do not require you to have ever played! We have discs for first timers. We want to introduce you to the amazing world of disc golf. Get out in our beautiful natural surroundings and get healthy.
Can the entire family play?
Yes! This year we have arranged for a youth tournament to complement our multi-division tournament. Bring the entire family and we'll make sure you first time disc golf experience is something your entire family will never forget!
How does this work?
First: Register today by calling Chicopee Ski and Summer Resort at 519-894-5610 then visit us at Chicopee at 9am on Saturday, October 15, 2011 for registration and and to get your hands on the player pack. There you will paired with three others for your "round" of disc golf. We will also ensure all youth participants are paired with Chicopee staff to kick off their training session and rounds.
Youth Event Schedule:
8am -10am – Registration at Guest Services
9am – 12am – Clinic and Tournament  – The Pines Course
12pm – 1pm – Chicopee Hall & Deck Lunch
1pm – 4pm – Afternoon schedule: disc golf, volleyball, climbing wall
4pm – Awards –  Chicopee Hall & Deck
Adult Event Schedule:
8am – 9 AM – Registration & Players Packs in Guest Services
Main Lobby – Complimentary Coffee & Muffins
9am – 9:15am – Players Meeting in Chicopee Hall
9:30pm  – Round 1 Tee Off (for those in the tournament).
12pm – 1pm – Lunch – Oktoberfest Sausage, non-alcoholic beverage
1:15pm – Round 2 Tee Off
4 pm – Players Meeting and Awards – Chicopee Hall Deck
Registration Fees and Divisions (includes lunch + a beverage, player's pack full of goodies and a tournament disc total value is approximately $100).
Youth $ 20.00
Recreational $ 35.00
Amateur $ 40.00
Professional $ 45.00
You are welcomed to join Oktoberfest party at the Chicopee Haus Festhall, Ticket are $20 and first 150 people receive complimentary Molson Experience, sausage and beer sample, Register today by calling 519-894-5610. Also featured: free community bus for our neighbourhood, dancers, live music, trebuchet on the hill, and so much more.
Showers and lockers will be available to players – please reserve your tickets in advance.
We would like to take a moment to thank your sponsors, including K-W Oktoberfest, Pepsi, Joseph's Winery, M&M Meat Shops and a whole list of others.
For those of you who have never played disc golf before – you will also receive a tournament disc to take with you for future disc golf events and games.
All proceeds to the The Dušan Nedelko Foundation, enabling youth through outdoor activity.