Unbelievably beautiful weather, spectacular scenery at Chicopee Ski Club and Summer Resort, happy faces, new friends….. I could go on and on and on. This was the first "collaboration" event of The Dusan Nedelko Foundation and Chicopee – with a focus of raising money for the foundation.
Dusan would have been thrilled – 52 participants was beyond our expectations and the great thing was that lot of them were brand new to disc golf! That is one of the important issues he worked very hard for – introducing a love for competition, sportsmanship and an appreciation for the outdoors through disc golf to as many new players, particularly youth, as possible.
And at this point, I have to mention the incredible 9-year old Makayla Lackenbauer who played for the first time ever (her dad Derek is an old friend of Dusan's and came to support the foundation) Makayla played all 36 holes and I hear that she wanted to go back to play more on Sunday!
We are all thrilled and hope to see her on the course again and again.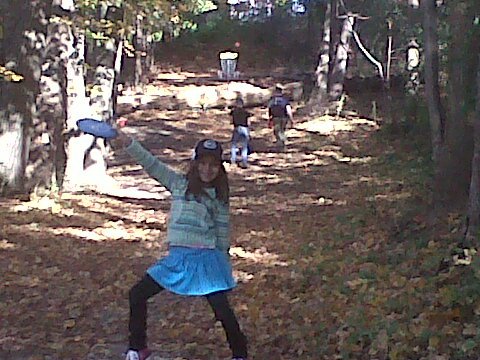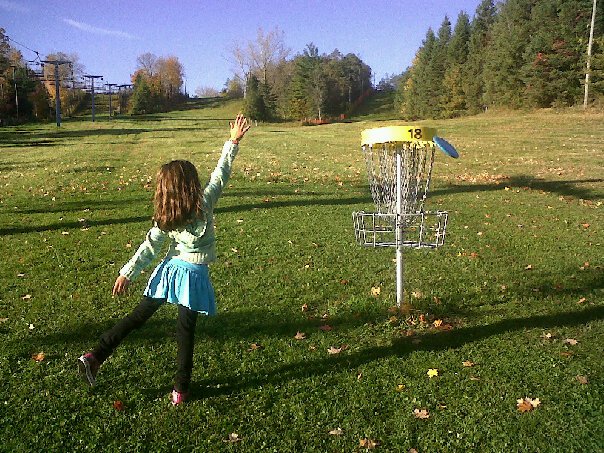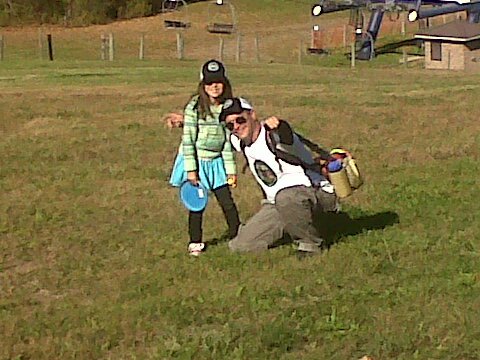 And I wouldn't want to omit sending big Thank You to all of our generous supporters and sponsors:
WOW – What a Tournament
I could do a long write-up about the 2010 Okthrowberfest – but reading all the comments on Disc Golf Ontario forum – there is no doubt that it was a WOW success.
Personally, I was thrilled to see 52 players attend – From Pro to Am to Rec and of course – Ladies. The Rec division put an even bigger smile on my face – new people trying out disc golf – that is what Dusan was all about! Introducing new players and getting them hooked on the sport – how awesome is that?
But what I have to first here is some heart-felt thanks yous:
To Mikey Yuhasz – awesome Toutnament Director who had pretty big shoes to fill this year and he did! Smooth tournament, organized and smiling – you rock Mikey!
To AJ Leeming – working with all of us on behalf of Chicopee Ski and Summer Resort. Thanks for the support and your amazing staff!
To Joseph's Estate Winery and Joe Dougall: Not only for the incredible VIP Wine Tour certificate for each player, but also for the wine tasting table and the generous Silent Auction donations.
To Chris Lowcock, Executive Director of ODSA: Thanks so much for making the drive to play and for all your support – we are beyond grateful for your friendship and your dedication to Dusan's memory
To our all of our supporters: K-W Oktoberfest, M&M Meat Shops, ODSA, Joseph's Estate Winery, Conestoga Mall, Brandmark Corporate Sales, Innova Sports and all those who contributed to the amazing player packs and the huge number of prizes that were awarded
To all the volunteers who help to make the day such a pleasure: Mike Hiscott, Jenn Franklin, David Trafford and Nicole Furlong – to you go my personal thanks and to all who were helping out on the course and all around as well – you are very much appreciated!
I will only add that I know Dusan was smiling and that we all made him proud. I personally thank all for keeping his memory alive and making his dreams come true.
Here are some comments posted on the Disc Golf Ontario Forum:
Holy (cigar) smoke!! Look at all those people signed up. This is gonna be sweeeeeet!

The course is looking and playing great!
The weather is gonna be great: http://www.theweathernetwork.com/weather/caon0356?ref=topnav_weather_savedcity
What a way to spend a beautiful fall Saturday and support a great cause!
Guys,
Today was AMAZING. Well done and well played by all. I hope everyone enjoyed .It was a blast to see the course so busy and smiles on faces! Please feel free to share your thoughts!

Dusan would be really happy to see a course he had such high hopes for host such a successful fun day!
Thanks to all who played, watched, and supported.
Cheers & See you at next year's OKTHROWBERFEST!

"Had an amazing time, so many good people, great course, fun time, ran well, amazing weather.. great prizes, and an all around great day! glad to have won the recreational division, next year ill play in Amateur. And ill also be getting a membership for 2011! had a blast, hope to play with some of you again soon"
"To everyone involved. Excellent work on the tournament. Will be putting this tournament on my calendar for next year.
Awesome day guys! Thanks for letting me walk up and down your ski hills."
"Wow what a turn out! Great to see everyone having a wicked time out on the hill. I can't wait until next year. Maybe a spring event could be done and get more out on the hill as well as one in Oct."
"The kids and i had fun at the family funday today rock climbing, scavenger hunting, hucking plastic, beer and food tasting, etc. thank-you very much to the staff and planners."
"Thanks Mikey, Chris , AJ, Dusty and all who pitched to make this event a success. Also noted this morning on the Weather Network, some coverage of the event including nice video of one of the AMs pulling a sweet drive and footage of a very
hesitant putt by our TD who fortunately had his back to the camera!"
"Thank you Mikey, Chris, AJ, Danno and everyone else who helped to put together a great tournament. It was great to see so many new faces enjoying the course at Chicopee. Special thanks to all the sponsors and all those who got the course groomed for the tournament."
"Thanks everyone for making this a great day.
It was fabulous to see faces new and old, and really awesome to experience a well-supported and thriving DG community. I'll be advertising for you guys as I throw my shiny new Chicopee disc"
So – enough said I think – other than the few words from Dusan's list of famous quotes:
"I intend to live forever – so far, so good…"